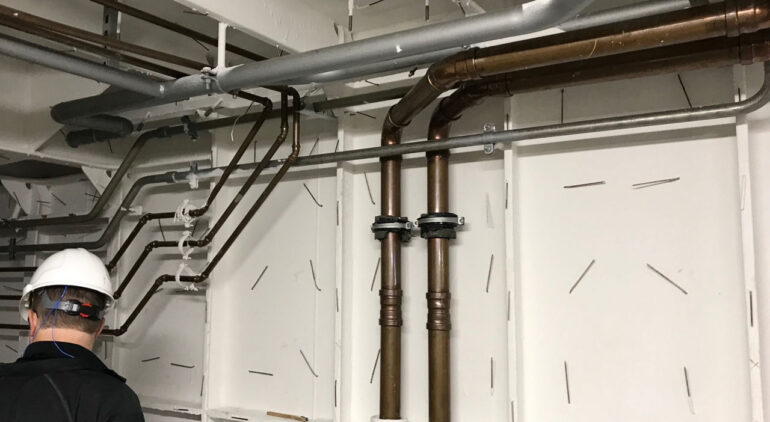 The Advantages of Viega MegaPress CuNi Fittings for Marine Pipe Systems
Efficiency means savings on labor costs for the client, and the importance of safety needs no explanation. In the marine industry, where efficiency, durability, and safety are paramount, technological advancements shape how vessels are built and maintained. One innovation that has revolutionized marine pipe systems is the Viega MegaPress CuNi fittings. Earning bragging rights by being the first press fittings for use in Navy combat ships, these cutting-edge fittings offer numerous benefits over traditional brazing methods, making them a game-changer for shipbuilders and operators alike.
By adopting Viega MegaPress CuNi fittings, embracing their advantages, and resting assured in their performance after earning the US Navy's approval, All Points Boats (APB) remains a solid choice for your boat repair needs.
Watch Viega's demonstration to see the difference for yourself!
Advantages of Viega MegaPress CuNi Fittings vs. Brazing
Corrosion Resistance – Marine environments are notorious for their corrosive nature due to exposure to saltwater and harsh weather conditions. Traditional brazed connections can be vulnerable to corrosion, leading to leaks and inefficiencies. In contrast, Viega MegaPress CuNi fittings are crafted from Copper-Nickel, a material specifically chosen for its exceptional corrosion resistance. This allows marine vessels to maintain their integrity and performance, even in the most corrosive marine environments, ultimately increasing the lifespan of the pipe system.
Time and Labor Efficiency – Although widely used, Brazing demands meticulous preparation and skilled labor. The process involves using an open flame, which can be hazardous in confined marine spaces. Additionally, brazing requires time-consuming activities like purging, cleaning, and cooling before the system becomes operational. In contrast, Viega MegaPress CuNi fittings employ a cold press connection technique that eliminates the need for hot work. The press connection process is considerably quicker, significantly reducing installation time and labor costs. The speed and simplicity of installation allow marine engineers to focus on other critical tasks, accelerating project timelines without compromising quality.
No Hot Work Permits and Fire Watch – When brazing is utilized in shipbuilding, obtaining hot work permits and deploying fire watches become necessary safety precautions. This involves extra planning, paperwork, and manpower, potentially slowing the project. With Viega MegaPress CuNi fittings, the cold press connection eliminates the need for hot work permits and fire watch, reducing bureaucracy and allowing shipbuilding and repair projects to proceed more smoothly.
Enhanced Safety – Safety is a top priority in the marine industry. Traditional brazing, involving open flames and hot work, poses inherent risks to personnel and the vessel's structure. Using Viega MegaPress CuNi fittings mitigates these risks, eliminating the need for open flames during installation. The cold press connection minimizes the likelihood of accidents, fires, and related safety hazards. By opting for Viega MegaPress CuNi fittings, marine operators can create a safer working environment for their crew and enhance the overall safety standards of their vessels.
System Flexibility – Marine pipe systems often require adjustments, expansions, or modifications due to evolving operational requirements. Traditional brazed connections can be challenging to modify without risking damage to the existing pipes. In contrast, Viega MegaPress CuNi fittings are designed for reusability and system flexibility. They allow for easy disassembly and reassembly, making adjustments and expansions in the marine pipe system significantly more manageable. This adaptability ensures that marine operators can respond promptly to changing needs without costly replacements or extensive downtime.